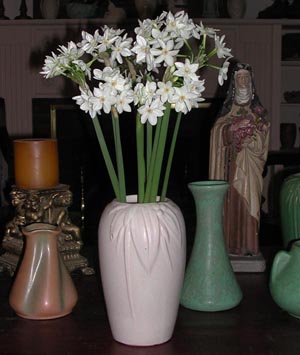 McCoy Pottery from our Personal Collection




If you had a great aunt, you'd hope she'd have an attic filled with American Art Pottery treasures like the ones we've found for you. My Great Aunt Agnes now has three pages devoted to McCoy pottery, a page for Robinson Ransbottom collectors, and a page devoted to holiday specific pottery. And if you're thinking of starting an indoor garden, we have a page of jardinieres and bulb bowls.

With all the fake cookie jars, Uncle Sam Planters, wall pockets and whatnot on Ebay these days, we want you to get all the information you need to build a quality collection, so we've added a section of books and links that can help you stock up on information about art pottery. We don't, however, personally offer appraisals or indentifications, nor do we often purchase pieces we can't see in person.