Art Pottery Planters perfect for Paperwhites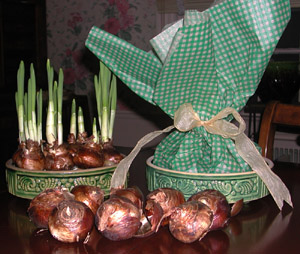 We aren't offering bulbs with our bowls this year as it's gotten a lot easier to buy paperwhites for forcing in stores around the U.S.


Each thumbnail links to a much larger, high resolution picture.
Unless otherwise noted, our bulb bowls have no chips, fleabites, cracks, or hairlines. We'll always supply more pictures if you wish.



---
Roseville Snowberry Window Box -- $ 125.00

Planter measures 3" H x 2.5" W x 6 1/2" L. Very good condition. Very small glaze scratch on right side (see picture).

Order Item number RS 101
---
Brush McCoy Yellow Ware Bulb Dish [2 Available]-- $ 75.00

These footed numbered yellow ware planters measure 2" H by 8" W.

Order Item number BB 101 [darker green - shown]; BB 102 [lighter green]
---
McCoy Large Grecian Centerpiece -- SOLD

12" Large Centerpiece Bowl. Very small glaze rub on one side.

Order Item number BB 104
---
---
McCoy Leaf Planter Dish -- $ 90.00

The glaze finish on this 9" long, 7 1/4" wide and 2 3/4" tall McCoy Planter dish is just beautiful: teal green sprayed over an ivory white with a light gloss finish. Minor crazing inside and the letter Z is impressed into the clay. Otherwise absolutely mint.

Order Item number BB 106
---
Long McCoy Butterfly Planter in Yellow -- SOLD

Beautiful mold definition on this 8 1/4" butterfly line planter in very good condition.

Order Item number BB 110



Ordering Information:

Please use the email link "Order Item number ..." beneath the description of the bulb bowl you wish to purchase. Include and a billing address [and ship to address if different from billing address] . We will place your choice on hold and will send you an invoice by return email, which you can pay via PayPal, money order or check. Shipping (via priority mail) and insurance will be calculated when you place your order. Estimated shipping and insurance on most bulb bowls within the 48 states is $8 - $10.

* When ordering McCoy and other Art Pottery, it's important to remember that certain factory flaws may be present. We've done our best to describe each of Aunt Agnes's offerings to the best of our ability and to only offer the best examples of each design that we can find.

If you check the book price on most of our offerings, you'll find that our prices are usually less than those asked by fine antique stores.





We Love Email !!


---

Our Seasonal Vases and Planters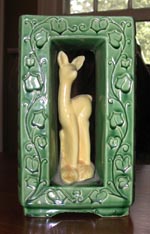 ---

[McCoy Vases, et. al.] [Jardinieres] [Bulb Bowls] [Seasonal Art Pottery] [Books & Links] [Home] © 2001 My Great Aunt Agnes