"Adam was not of her time, and like the women of her ballads, always existed between two worlds ..."



Helen Adam's Sweet Company, cont.

by Kristin Prevallet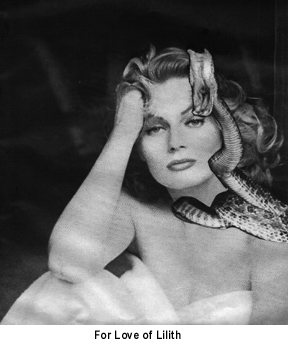 As Stoker writes in The Lair of the White Worm, "In the past, in the early days of the world, there were monsters who were so vast that they could exist for thousands of years. Some of them must have overlapped the Christian era. They may have progressed intellectually in process of time. If they had in any way so progressed, or even got the most rudimentary form of brain, they would be the most dangerous things that ever were in the world....Such creatures may have grown down as well as up. They MAY have grown into, or something like, human beings."

Adam is able to extract this pre-Christian lore out of the most mundane cultural images. And in doing so, she critiques the subordinate position of beautiful women as sellers of the status quo that oppresses them. Making them into alien creatures gives them an intellectual power that is denied to them when they are presented as nothing more than objects of male desire.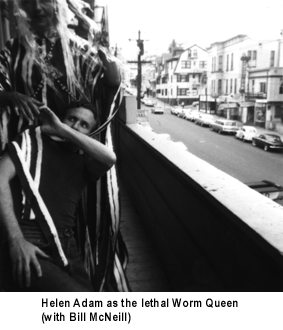 Adam died in New York City in 1993, and her ballads remain in obscure, limited edition books and out-of-print magazines. This is partly because in spite of her post-modern methods of drawing multiple forms into her work, she ultimately resisted modernity and remained Victorian at heart. In this sense, Adam was not of her time, and like the women of her ballads, always existed between two worlds, or on the verge of transformation from one into another. Yet, like many women who are continually left out of the narratives constructed for literary history, her idiosyncratic stubborness is her strength.





* For an excellent and exquisitely assembled book on this subject, see "Inverted Odysseys: Claude Cahun, Maya Deren, Cindy Sherman." Edited by Shelley Rice, MIT Press, 1999.

All of these collages are located at the Poetry/ Rare Books Collection at SUNY Buffalo where Helen Adam's archive is also held. They are reproduced here with the permission of The Poetry/Rare Books Collection, University Libraries, State University of New York at Buffalo and the Literary Estate of Helen Adam.

© The Literary Estate of Helen Adam.

Kristin Prevallet has edited and written an introduction for a selected edition of Helen Adam's ballads and collages called Fire Brackeled Bones: The Selected Helen Adam. Her essay "Helen Adam, Ballads, Brandy...and the Beat Generation?" will be included in the anthology On the Distaff Side: Another Look at the Beat Generation (forthcoming, Rutgers University Press). She is a poet and essayist who lives in Brooklyn, NY.