"What would it be to you? You dead and me alive, and me doing a party piece? What good? "





Lawrence recommends these online literary links.



for a

a hum for Alaric Sumner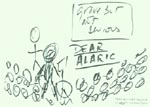 Studies 1 & 2

[realised Dartington College of Arts, 1st June 2000]

by Lawrence Upton





Lawrence Upton's latest publications are Meadows = (linear poetry) Writers Forum, 2000; Game on a Line = (visual poems and an essay) PaperBrain Press, USA 2000; huming / = queuing (verse set as prose) Writers Forum, 1999; and = Sta! (visual poetry) housepress,1999. He collaborated with = Bob Cobbing to make the 300 pamphlet Domestic Ambient = Noise, Writers Forum 1994-2000. Cobbing and Upton have also = recently made , plouk and flong, also from = Writers Forum.

Upton edits Spad magazine and = co-edited, with Bob Cobbing, Word Score Utterance Choreography in = verbal and visual poetry, Writers Forum, 1998. He has chaired = Sub Voicive Poetry since 1994.