Commentary by
Our Progressive Dinner features web-specific, English-language literary works by international women. The selections on our menu are from Carolyn Guertin's Assemblage, an extensive archive of women in electonic literature. Assemblage is featured as part of the website of trAce, an online community and consultancy which encourages writers to discuss writing, share their work, collaborate and experiment online. Based at The Nottingham Trent University in the U.K., trAce is always eager to showcase new web-specific works and provide development opportunities for writers working on the internet.
***
You are invited to a
A tour of the works of women who write hypertext and hypermedia literature on the WWW.
***
As we began to gather sites of women writers for this Progressive Dinner, and to list other significant contributors to the hypertext world, we started with conventional print categories: writers, critics, editors, promoters, and pioneers. Soon, however, we discovered that, much as hypertext itself is multilinear/multi-texutal, so the people in this field are not easily categorized. Both the hypertext medium and hypertext practictioners challenge the compartmentalization we rely on in our print-defined knowlege. In hypertext/hypermedia itself, the function of linking creates paths through boundaries and, by establishing myriad juxtapositons, creates new, pourous interfaces that mock boundary lines. Also, in the pieces we have selected the distinctions between art, poetry, narrative, and criticism may fade or disappear.
Among the people in the field, as well, the usual categories dissolve. Almost all of the individuals listed have worn several aprons, they may be critics and write fiction or poetry, they may write and edit, they may do programming, promotion, support, and collaborate in a number of ways. Some have literary backgrounds, some come from technology, fine arts, graphics arts, or programming. We have identified our Dinner Hosts and Guests out of necessities of structure and space, and as a snapshot in time--but not with the conviction that these categories are complete, permanent or even usefully accurate! The very fluidity of this field attests to its youth and to the exuberance associated with the evolving recipe, improvisation in the kitchen.
Finally, although this evening is dedicated to web-specific literary works, it owes a great debt to the many women and men who built the foundations of our hypertext practice and understanding over many years. We have listed some of these pioneering individuals in Honored Guests, and our gratitude is ongoing. We would not enjoy the rich array of hypertext works today without the dedication and perseverance of many talented pioneers, such as Mark Bernstein and Diane Greco of Eastgate Systems, Michael Joyce and Carolyn Guyer, Judy Malloy, George Landow, Jay Bolter, Stuart Moulthrop, Robert Coover, Cathy Marshall, and N. Katherine Hayles. This list could, of course, go on for days, like the proverbial Roman Banquet--in fact, it does!
An expanded list of the women cited in this piece (both web and automous media) is available, with biographical and bibliographical information, at the Assemblage site.
***
Browse the map, peruse the menu, meet the people who contribute, and feast at our virtual table.
***
Next autumn, the men creating web hypertext/hypermedia--our special guests this evening-- will don the chef's hats.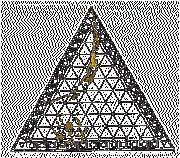 [As with all good things, these pieces are meant to be savored. Depending on your connection speed, you may find screens that take time to download. We recommend you clear your cache. Once the new window is fully operational, you can expand it for a better reading experience. Some pieces require level 4 browsers or plug-ins. These specifications are usually announced on the opening screen.]
***
—Bon Appetit —
Carolyn Guertin
Marjorie Coverley Luesebrink