Sight about sound, a sequence
by Carlyle Reedy
Start here: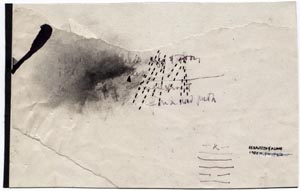 and follow the visual texts.



Depending on network traffic and your connection speed, the texts may take a minute or so to load.


Carlyle Reedy is a poet, performance artist and collagist-painter. She has performed her work at prestigious venues, notably The Royal Court Theatre in London. Early on she worked in unusual arts ventures such as Jim Haynes' Arts Lab, IRAT, Electric Centre (Haarlem, Holland), etc and later at Franklin Furnace (NY), Chisenhale (London). Peter Biddulph Gallery (London) presented her one-woman exhibition in 1986. Recently her work was included in the MOMA exhibition Out of Actions (catalogue published by Thames and Hudson). The Arts Council purchased five collages in 1999. Her poetry has appeared in out of everywhere (RSE), PAJ 61 (Johns Hopkins), Other (Wesleyan Poetry), Etruscan Reader 4. Her collection of poems Obituaries and Celebrations was published by words worth books in 1996.




Back to the Sound/Text