"This integration of poetry and comedy is as natural as Larsen's relaxed, conversational style. Seamlessly professional, he makes it look effortless - a feat which only took twenty years to accomplish."

-- Chocolate Waters

Listen to Mark Larsen

A Girl Caught Me Staring

7th Inning Stretch

Meatball Hero

Blues For My Red



Mark Larsen: Big Poetry - Big Laughs - Big Heart

_____by Chocolate Waters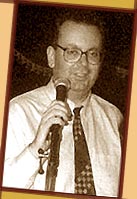 Unassuming, easy-going Mark Larsen is an enormous contribution to the New York Spoken Word scene. He does something unusual with his poetry. He makes us laugh - not only with the poetry itself, but also with the comedic routines that accompany his work in performance. Here is a person it is easy to establish a rapport with. His work is down-to-earth and he has an unpretentious way of taking us right there with him.




The Sun Rose

The sun rose this morning,
and because I considered myself a romantic,
I opened up the window
and took in as much of the sun as possible.

But another great thing about my being a romantic
is I didn't really know what a romantic was,
so I closed the window
and went back to bed.


Hearing Larsen perform is like sitting at home in your living room and Mark, in an imaginary, overstuffed comfy chair is just talking to you about his observations on life. As soon as he says, "Hello there. How is everybody tonight?" his hands resting easily in his pockets, a boyish grin on his face, you know you are going to like this guy.

"Do you think Einstein's mother ever said to him: 'Don't get smart with me, Albert.' "

"I love candy, but because of my size, when I'm at the store I'll try to camouflage my order. I'll say to the guy behind the counter, 'I'll take a Playboy magazine, a Penthouse, a Hustler, some condoms and a Snickers bar - and put the Snickers bar in a bag. Shhhh' "

"I know I have to go on a diet, because I was sitting on a chair and it collapsed. I accepted it but the bus driver was pissed."

Mark's physical presence is often the subject of his poetry and humor. He has experienced pain in his life, has come through the other side and is willing to share it in a way that makes us empathize and understand our own pain a little more.


Fear

I see the look of fear in your eyes
as I come walking through the subway car doors.
Don't worry.
I will not try and squeeze myself
into the space next to you.
I will not rub my stink all over you.
You're safe
for now
I'll just stand over here.

I see the look of fear in your eyes
as I come walking towards the elevator doors.
You're eyes go from me
to the sign to me to the sign to me
back to the sign that must read
"Maximum weight: 1800 lbs."
Come on.
You're the only one in there.
We will not have to go to your funeral.
We will not have to hear your daddy crying,
"She was such a good person.
She never hurt anybody.
All he gets is 6 months in jail
and a broken leg
and my baby girl goes tumbling to her death.
There should be tougher legislation
preventing fat guys from riding elevators."
You're safe
for now
I'll just take these stairs.

I see the look of fear in your eyes
as I walk across the dance room floor.
Who else could I ask to dance?
See baby,
the way you moving your hips,
you a chubby girl,
me a chubby boy,
you rub our chubby bellies together,
you get beautiful chubby music.
But I understand.
You're safe
for now
I will walk right past you
and into the bathroom.
I will check my reflection in the mirror.
I will see the look of fear
in my eyes.


Then he may break out his harmonica and do a very funny rendition of his "chubby music," swaying back and forth in perfect time in a kind of courtship ritual, mesmerizing the audience and allowing us to once again see the humor (and he plays a mean harmonica!).


A Girl Caught Me Staring

A girl caught me staring at her today and said,
"What are you doing?"

"I'm writing a poem about you," I answered.
"Would you like me to add anything in particular?"

"Can you make me pretty?"
"No problem," I said.

"Can you make me smart?"
"No problem," I said.

"Can you make me the kind of girl
who inspires poets and painters?
Causes countries to go to war?
Traffic stop, hearts break?"
"No problem," I said.

"Can you make the poem rhyme?"
"Nice talking to ya," I said.


This integration of poetry and comedy is as natural as Larsen's relaxed, conversational style. Seamlessly professional, he makes it look effortless - a feat which only took twenty years to accomplish.

Originally a native of Astoria, Queens, he spent his last two high school years in Barrington, IL. It was here in a creative writing class in the late 70's that he first started experimenting with poetry.

"I would go out and do something Friday night. Saturday night I'd write about it and then Monday morning turn it into my writing class."

It was only a few years later in 1983, while attending college at the University of Illinois, that a comedy club which featured an open mic night, opened up in the area. This occurrence set the stage for the beginning of Larsen's performance career.

"I did well enough in the open mics that the manager decided to use me on the weekends. Some of the performers that I emceed for were Emo Phillips (now appears on Letterman), Andy Dick (now on Talk Radio) and Jackie Martling (of the Howard Stern show). I did that for two years and then moved back to New York in1985. I spent about five years performing stand-up comedy at clubs like Catch A Rising Star, the Comedy Cellar, the Comic Strip and the Improv."

I first met Mark Larsen in 1993 when we were both working for a New York City market research firm, the field in which Larsen still makes his living. At that time he was on hiatus from performing stand-up but was very interested in learning about performance poetry. As Mark tells it, "After I met Chocolate, I began to go through some of my old stuff from college. I polished it up a bit and started to go to the open mics on the poetry scene. I'd be on stage reading a poem and some of the comedy material that related to the poem just started coming out. When everything is working perfectly the comedy leads into the poetry. For example, I will do a joke about my father and then read a poem about my father and me and vice versa."

In fact, Larsen has written many poems about his relationship with his dad, a writer who inspired him. "It was a way of connecting with him," he says, "a way of understanding him." Nostalgic or amusing, these poems are always heartfelt. Especially poignant is 7th Inning Stretch, written shortly before Mark's father passed away earlier this year.



7th Inning Stretch

You're not gone yet, but when you are, I will sprinkle
your ashes over softball fields in Central Park.
Do you remember telling me that's what you wanted?
We sat on a bench, father and son
keeping score on a Saturday afternoon.
Someone hit a shot so far over the left fielder's head
that it rolled to a stop at your feet.
You picked it up and threw it back into the game.
I realized then you did not throw a ball that well.
I could probably throw a ball farther, and harder, than you.
An inning later you turned to me and said,
"When I die I want them to sprinkle my ashes over these fields."
The 'them' you referred to will be me.
I've never had to sprinkle ashes before.
I wonder how you do it.
Perhaps it's a bit like adding salt to soup,
or barbecue sauce to ribs - no recipes.
I'll bend down,
pick up some infield dirt, taste it,
and know I have just enough of you in the ground.


Larsen's comedic-poetic style has, of course, been affected by both comedians and writers. He has been particularly influenced by classic artists such as Woody Allen, Richard Pryor, Steven Wright and Steve Martin.

"I still watch stand-up comics on talk shows to see who is out there and what they're doing."

His poetic mentors include Thad Rutkowski, Doug Collura, and Francine Witte, all active participants in the NY poetry circuit.

Although, Larsen himself performs frequently in the NY area, he admits that, "I haven't really sent out my work that much though I did recently submit to a publication that was calling for food poems - one of my favorite subjects."



Meatball Hero

Fat man crosses Queens Boulevard at 3 AM
street lamp goes dark
pay phone rings
voice on other end orders
"Don't forget the milk".

Fat man pleads with deli man,
"Scuze me, can I get some milk?"
"We're closed".

Fat man raises voice,
"Scuze me, I just bought this hero here, can I get some milk?"
"We're closed".

Fat man gets angry,
"Listen you, I want milk.
Give me milk. If you don't give me milk,
I'll never shop here again."
Iron fence crashes down,
Deli man walking away.

Fat man rests on corner as
traffic light hums
a meatball hero serenade,
knowing he's got some explaining to do.


Larsen, along with inamorata, Francine Witte, recently started producing shows which spotlight fellow performers. The Mark & Fran show, a production at 22 Below in Manhattan, successfully combined entertainers of both the comedic and poetic persuasion. Mark is also working on a longer performance piece, which will be similar to a one-man show.

"I want people to know what I am about and how I feel about life. Offstage I consider myself to be a shy person who keeps my opinions to myself but once onstage I really open up and express myself."



Blues For My Red

Follow and find me
Haunt and mock me
Like a moon jumping over rooftops
Always there
In unnamed neighborhoods
At the crossroads
Of Times and Square
In the middle of Broadway
On the street formerly known as Prince
Oh hell, baby
Every corner was our corner
All I can do is hum along
Feel the bass of your love
Loose in my rib cage
Thumping me back
Into all I need to know


Mark Larsen can be contacted at marklar@aol.com. Or if you're in New York, he can often be found at Revival on Monday nights (129 East 15th St.) and at the Baggot Inn (W. 3rd St. betweenThompson and Sullivan) on Saturdays.

_____

Chocolate Waters' latest book, Illusion Junkie Downtown, will be released by Cedar Hill Publishing early next year. The author of three previous collections, she is the recipient of a New York Foundation for the Arts fellowship in Poetry and a fellowship from the Barbara Deming Memorial Fund. Her work, which has been nominated for several Pushcart prizes, is widely published and currently appears in Hell's Kitchen: Slices of Life, And What Rough Beast and The Second Word Thursdays Anthology. Other work can be browsed on the Web at Poetry Central, Conspire, Disquieting Muses, Perihelion, Poetry Café, Poetrymagazine.com and the Astrophysicist's Tango Partner Speaks. Hailed as the "Poet Laureate of Hell's Kitchen, Waters is a pioneer in women's publishing and in the art of performance poetry. She has toured throughout the United States, but makes her home in Manhattan where she teaches poetry workshops, tutors individual clients and is a frequent participant in the New York poetry circuit.

Books may be ordered from amazon.com or barnesandnoble.com. Information on bookings may be obtained from eggplant_@email.com




Back to the Dialogue