"Maguffin's work is enchanting and engagingly succinct."

-- Chocolate Waters
The Pithy Poetry of Penelope Maguffin
_____by Chocolate Waters

My Religion

You cannot categorize me
conventionally,
because
my religion
is poetry.
I worship words,
love to hear them
roll on tongues,
and see them
embellished on paper.
Written, recited, printed,
poetry's my religion.
And I am a religious woman
because I am a poet.
_________________(1998)


Penelope Maguffin has been a "religious woman" since the second grade when she wrote her first poem:




Brooklyn-born and raised, Penelope now lives in Manhattan where she says she writes poetry because, "It's in my head and I just have to get it out."

She has been delighting audiences with getting it out since 1975 when she first performed her work at the Centerfold in Manhattan. The booking, which grew out of an association with a West-side writers' group called the Scribblers, led to many more engagements at the Centerfold and also to venues such as the Cornelia Street CafÈ, the Back Fence, Wetlands, the Redroom, WNYC Radio and the popular New York City Cable TV show, Poet-to-Poet.

A lively and charismatic entertainer, Maguffin's work is enchanting and engagingly succinct. Inspired by writers like Rilke, Whitman, Millay, Nash and St. Exupery, her poetry is often about "healing myself and others." I believe strongly that poetry is an extraordinary instrument of healing because it facilitates introspection and deep self-expression." Her self-expression always lifts the spirits of those fortunate enough to attend one of her performances.

Seed Becomes Plant

I am longing to absorb
the soft, sweet air and light,
and push up with all of my strength.
oh! I am breaking a place
in the earth apart
with my back!
Let me through!
I'm growing!
____________(1988)


"Real," is how she describes her own work. "Some pieces are very personal. Other pieces depict the world and things happening in it. Recurring themes are joy, cynicism and frustrations, but I love to laugh and I look for humor in everything."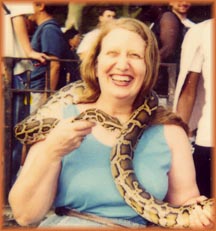 Shorter but Taller
My qualifications list
was long
so I decided to
make it smaller.
All he has to be
Is WRONG
and hopefully,
a little bit taller!
______________(1994)

Maguffin, who attended Brooklyn College where she studied journalism and public speaking, has been employed in a myriad of professions: a reporter for an Ohio daily newspaper, a library reference clerk, an advertising copywriter, a public relations woman and the managing editor of a wrestling magazine.
For five years she also worked as an artistic facilitator for special populations, which included homeless men living in shelters, prison inmates and East Harlem Spanish-speaking citizens. "These experiences," she says, "helped me grow as a person by opening my heart to empathizing with other people and consequently making me a better poet."
Some of what she has learned in these adventures is delineated in a recently- assembled collection of poetry, Healing Poems. "I know it will be well-received," and "I won't give up until I find a publisher. I don't believe in chapbooks," she adds. "I believe a poet should be paid for her work."

HOUSING PROJECT
I have now reached the living room
of my life,
having spent much time in outer rooms:
The kitchen, where I sought
different tastes;
The dining room, where I savored
and digested;
the bathroom, where I cleansed away
my bitterness.
Having reached the living room,
now I can sit down,
going inwards
plucking ideas
from my internal fount,
considering,
discarding and creating.
____________________(1987)

Inquiries and further information about the poetry of Penelope Maguffin may be addressed to egg.plant@usa.net


Chocolate Waters' latest book, Illusion Junkie Downtown, will be released by Cedar Hill Publishing early next year. The author of three previous collections, she is the recipient of a 1995 New York Foundation for the Arts fellowship in Poetry and a 1990 fellowship from the Barbara Deming Memorial Fund. Her work, which has been nominated for several Pushcart prizes, is widely published and currently appears in the Apricot Anthology, the Church Wellesley Review, Howling Dog, Hey!, the Journal of General Internal Medicine and in the new anthology And What Rough Beast. Current work can be browsed on the Web at Perihelion's Archives, PIF, Poetry Cafe, Poetrymagazine.com and the Astrophysicist's Tango Partner Speaks. Work is upcoming in Conspire and Disquieting Muses.

Hailed as the "Poet Laureate of Hell's Kitchen," Waters is a pioneer in women's publishing and in the art of performance poetry. She has toured throughout the United States, but makes her home in Manhattan where she teaches poetry workshops, tutors individual clients and is a frequent participant in the New York poetry circuit.

Books may be ordered from Amazon. Information on bookings may be obtained from eggplant_@email.com


Back to the Dialogue