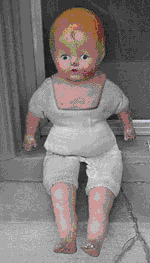 Vintage Dolls Raise Over $300 for the September 11th Children's Fund
"We often talk about vision in the arts, so sure in our sightedness that we seek that less easily seen, chart paths back into the past or forwards into a possible future.

Will it be dream, or nightmare? What role do you play, can you play as 'audience' when you read this work? How will you choose to interact, point and click, allocate your resources, both financial and intellectual? What will you take with you from your reading of this story?

I believe that in order to be truly interactive, in order to take full advantage of this new networked medium for communication we have been given, it is time to reach past subtleties and create reading experiences that can resonate past the borders, not just of the printed page, but of the glass monitor screen and keyboard at which you read these words."

I've placed the passage above in quotes as I wrote it when I was working on this project over the summer, before the events of September 11th and the benefit "Auction for America" which Ebay has subsequently launched to generate funds for the victims of those disasters. My intention over the summer was to use a similiar online auction to generate funding for a children's charity.

As writers and artists we have a large network at our disposal; this is a time to make sure that what we do and say reaches "outside the box", offers alternative (and in the course of donations, additional) responses to current events. I can only hope that in the future, these include but are not limited to opportunities for dialogue that reach past cliche. Opportunities to mourn and experience sadness. Means to formulate a response that recognizes and gives vent to the fear that many citizens of the US and the world are now feeling. And celebrations of who and what we are and can be if we utilize our freedom wisely.

Between November 15th and November 25th, dolls and other props used to create some of the pictures in the amniotic meander sold to bidders across the U.S., raising over $300 for the September 11th Children's Fund. Each of these dolls no doubt listened to some child's story, played rosetta stone to someones wants and expectations. In a medium lacking the comfort of touch, it seemed fitting to offer a means to make this bit of byte and baud "birth" tangible.

Only two of the dolls still need to find a home; all of them are referenced below, with a description that includes size, compositional makeup and condition. Auction winners will receive the doll or prop on which they bid and a signed computer print on cardstock showing a screenshot of the page in the amniotic meander on which their doll or prop appeared. Our thanks to the people listed below who participated in this auction, a testament that if the pen can indeed be mightier than the sword, so too can the community we make out of our travels on the Web.



Click on pictures for a more detailed, higher resolution "studio" photograph of each doll . These pictures will take a few minutes to load. If you have any questions, please write to jley@heelstone.com with "Vintage Doll" in the subject line of your email. The auction has begun. You can bid by clicking Bid Now.

---
15" Composition and Cloth Baby Doll with Cloth Body in Flawless Vintage Sheer Organza Christening Gown. Original Cloth body with a mendable 3/4" tear in one leg. Composition worn and a bit soiled but not cracked.

Starting bid: $ 45.00 Still available
---
17" Mama Doll with Sleep Eyes and Working Crier. In new dotted swiss, cotton and lace dress with satin ribboned bonnet. New cloth cover on body, arms and legs are in wonderful condition. Head is not composition ... celluloid?? Very pretty doll.
Our Mama doll raised $59.48 for the Sept 11th Children's Fund, thanks to Harry F Darnell.
---
18" Horsman Composition and Cloth Sleep Eye Doll. In vintage pink pinafore with pantaloons, a few stains on the outfit. Composition arms and legs in very good condition; body looks original with a few stains.


This pretty doll raised $40.00 for the Sept 11th Children's Fund, thanks to Sandy Welch.
---
18" Composition and Cloth Blue Eyed Boy Doll in Vintage Short Pants Outfit, with Tie Shoes and White Socks. Composition legs have cracking; body looks original. Face and head painting are absolutely beautiful.
Our boy doll raised $56.00 for the Sept 11th Children's Fund, thanks to Joyce Zellers-Oldridge.
---
21" Horseman Sleep eye Composition and Cloth Doll with Soft Rubber Arms and Legs. Doll has faint but working crier. Some crazing on face, rubber in good condition with one stain under one arm. Wearing Black Patent Mary Jane shoes and white socks. Luggage will be auctioned separately below.
Our biggest baby doll raised $50.00 for the Sept 11th Children's Fund, thanks to Peggy M. Spivey.
---
Doll sized Limoges Teaset in Excellent Condition. Teapot, sugar, creamer and six cups and saucers.
This little teaset raised $127.50 for the Sept 11th Children's Fund, thanks to Myrna Kolodge.
---
Three nesting oval boxes with printed decoration.
Our oval boxes raised $10.00 for the Sept 11th Children's Fund, thanks to Laura Stordeur.
---
Jennifer Ley, the creator of the amniotic meander is a pioneering member of the digital literary arts community. Her work has been published and shown internationally, in venues ranging from the Guggenheim Museum to online literary magazines such as BeeHive and Cauldron & Net to digital art festivals from New Orleans to South Africa. She also publishes the online literary magazine, Riding the Meridian and is a founding member of the Internet Literary Editors Fellowship.

Ms. Ley was the Executive Director of the children's activist environmental magazine, Crayon Power, in the early 90's. A more recent work of hers which also links artistic inquiry with web interactive activism is War Games, published in June 2001 by BeeHive.

---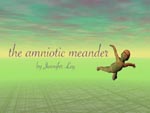 Return to the Beginning of the amniotic meander